Curious about how you can make your Direct Marketing more effective? Do you want to know how the world's top marketers use PURLs in their integrated marketing campaigns?
You are in luck!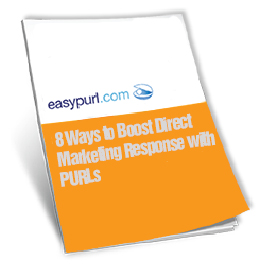 Our new eBook, 8 Ways to Boost Direct Marketing Response with PURLs, is now available to direct marketers who are looking to get better response and higher conversion by using Personalized URLs (PURLs) together with other direct marketing channels.
Personalized URLs (PURLS) allow you to connect your direct marketing with web pages reserved for each individual in your Target List – enabling you to build personal relationships with customers and prospects, closely track engagement on the individual level, and help boost Campaign ROI. As digital marketing has evolved, Integrated Marketing is no longer optional for Direct Marketers – and personalized, cross-channel experiences are the key to maximizing return on Marketing investment.
Whether you are looking to get your direct marketing out of a rut – or just get better results – our handy guide keeps it simple with essential tips for improving the success of your direct marketing campaigns.
In our new eBook, you'll discover:
• How PURLs increase Direct Marketing response and conversion
• How and where to use personalization to maximize customer experiences and engagement
• Best practices for creating integrated marketing campaigns using PURLs
To download this eBook now, click

here

– and let us know what you think in the comments below!